Stakeholders are people or groups that have a legitimate interest in the progress or outcome of a process or project. For Bionorica, this naturally includes not only patients, doctors and pharmacists, but also employees and partners at various levels.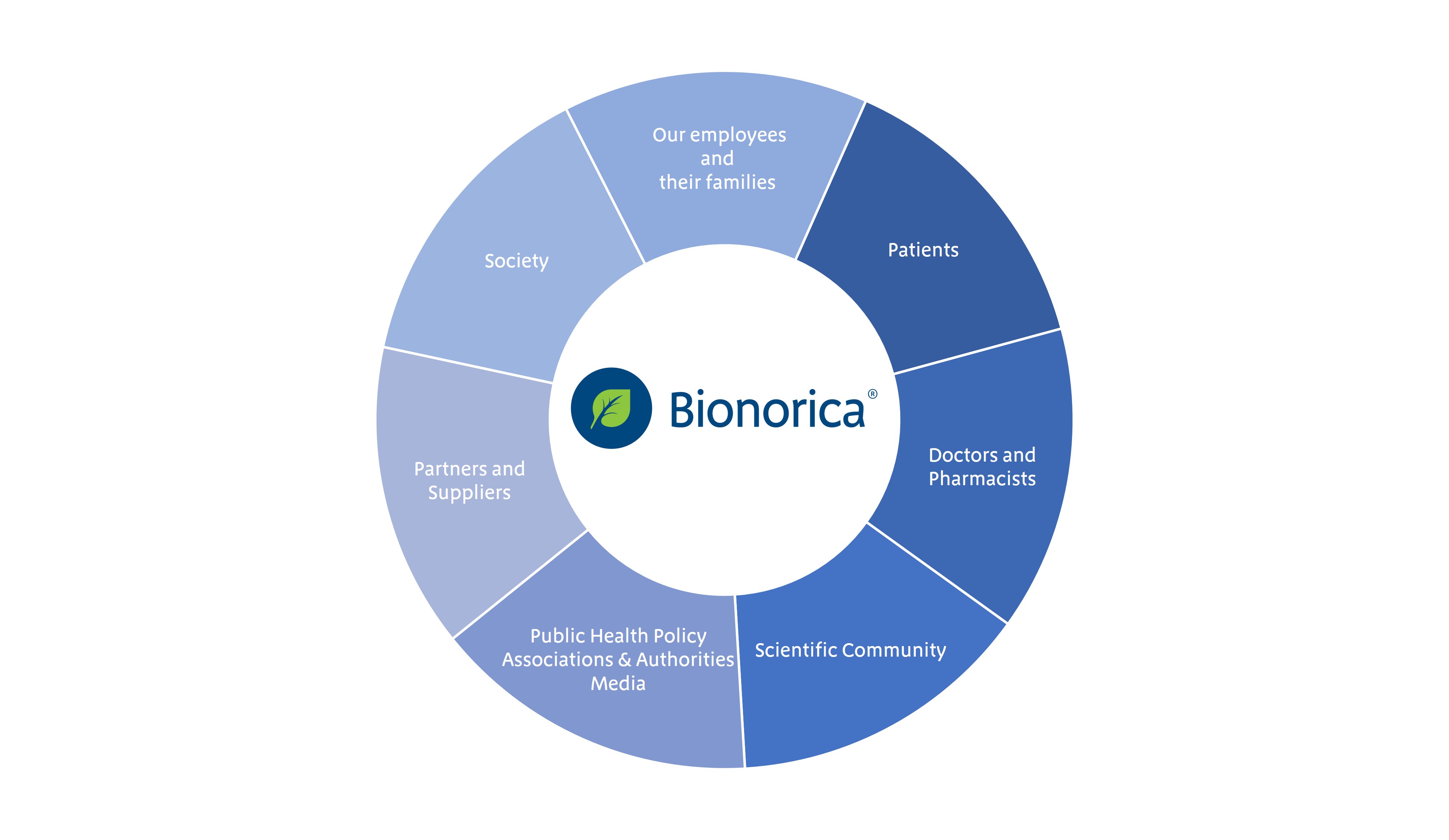 Bionorica has defined a total of seven stakeholder groups with which the company is in permanent and intensive exchange. Our goal is to develop these relationships in a sustainable manner.
Employees
A very important stakeholder group that includes about 1,800 employees at 20 locations worldwide. Without the continuous commitment of its employees, Bionorica would not have been where it is today. The relationship is characterized by give and take and mutual trust. Bionorica gives great importance to a healthy working atmosphere. Things such as training and further education, pension provision, and a flexible working time model are very important to Bionorica.
Patients
Patients can rely on the effectiveness, safety and low side effects of the high-quality Bionorica medicinal products. In order to optimally determine the needs and assessments of patients, Bionorica conducts numerous surveys in the national and international markets. For the most part, the focus is on dialogue with patients. The knowledge of pharmacists, pharmaceutical technical assistants and doctors is also given significant importance.
Physicians and pharmacists
At Bionorica, communicating the latest research results, including our own, to doctors and pharmacists is very important. Participation in national and international conferences is therefore given central importance. The training measures also focus on the further education and training of doctors. Our areas of scientific interest include antibiotic resistance, microbiome and phytotherapy.
In addition to practice team training and pharmacy team training, a certificate course in the field of phytotherapy was developed in cooperation with the Chamber of Industry and Commerce (IHK) Akademie Mittelfranken in Nuremberg.
Scientific Community
Bionorica is a research-driven pharmaceutical company. A double-digit percentage of our turnover is reinvested in R&D every year. We set standards in evidence-based phytomedicine through the results of intensive research and scientific collaboration with the scientific community. The resulting herbal medicinal products offer excellent pharmaceutical alternatives in times of increasing antibiotic resistance.
Public Health Policy, Associations

& Authorities, Media
Bionorica is actively involved in health policy and a member of various associations. For example, Professor Michael A. Popp is the deputy director of the German Association for the Pharmaceutical Industry (BPI) and mentor for self-medication and international affairs.
Bionorica is often part of the coverage in the local and national media in Germany and worldwide.
Partners and Suppliers
Bionorica gives great importance to building long-term and value-adding business relationships with suppliers and partners. By constantly improving the technologies and processes used, we jointly drive future-oriented developments. Local suppliers are part of our sustainability strategy because it keeps supply routes short.
Society
Even though Bionorica is strongly involved in the regional environment at its headquarters in Neumarkt, Germany, our social activities can be understood worldwide. As a reliable employer or business partner in over 40 countries, we actively participate in the local communities and thus in society and enter into dialogue with this stakeholder group.