Local suppliers are part of our sustainability strategy, as this keeps delivery routes short and allows improvement processes to be carried out in close coordination. In the 2021 reporting year, the share of our Germany-based suppliers amounted to 92.4%. Bionorica's sourcing strategy is significantly more EU-heavy than that of other companies. In view of global business activities in more than 40 countries, Bionorica has defined the term "local" as Germany-wide. "Suppliers" refers not only to contract growers of medicinal plants, but also to companies for office and laboratory supplies, or packaging material manufacturers. Bionorica can rely on long-term partnerships characterised by mutual trust – an important factor in view of increasing supply bottlenecks.

The stakeholder dialogue with our suppliers takes place regularly, e.g. weekly in some purchasing departments, and was intensified even further via digital communication channels in the wake of the coronavirus pandemic and the associated increasing global logistical challenges. Important issues and concerns expressed by the stakeholder group "Partners and Suppliers" in the reporting year 2021 included, in particular, challenges in the procurement of materials, such as a reduced supply and longer delivery times, for the reasons mentioned above. One of the ways Bionorica responded to this was by placing orders earlier.
A good example of how sustainable results in resource conservation can be achieved through stakeholder dialogue with our partners is the project to optimise machine stretch film at Bionorica's main business location in Neumarkt: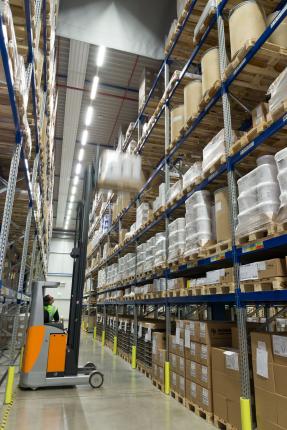 Bionorica's cooperation with a full-range packaging supplier based near Munich, with whom the company has already been working for a decade, has resulted in a considerable savings of film for the high-bay warehouse since the beginning of the 2021 reporting year. An innovative perforated stretch film is used for storing pharmaceutical raw materials on pallets, which both allows the plant material to breathe better and makes the load more secure thanks to firmer stretching. In terms of resource conservation, the switch resulted in a material reduction from 740 to a now mere 180 grams of film per pallet – thereby cutting the volume of waste by 75% and costs by more than 40%. This result shows that environmental protection can also be highly economical.
Plant raw materials in the high-bay warehouse at Bionorica in Neumarkt © Bionorica SE - Stefan Hanke